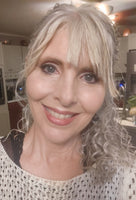 Lori Cameron, MNH H.Idg CR
Lori is a Holistic Practitioner and Woman Entrepreneur; Owner of Magic City Wellness Expo and Simply Well. She earned a Masters degree in Herbal Medicine and a degree in Holistic Iridology. She holds certifications in Nutrition, Aromatherapy, and Reflexology.  For over 25 years Lori's passion is teaching self-care, nutrition, and herbal medicine.
Lori is on a mission to create awareness of the abundant holistic and mainstream health products, services, and therapies right here in the Magic City and surrounding areas! Come explore the Magic City Wellness Expo! For more details click on the About link at the top of the page.
Expo Facebook page
Meet the 2023 Donation Beneficiary
YELLOWSTONE VALLEY WALK and MONTANA CHAPTER.
The Yellowstone Valley Out of the Darkness Walk is one of six signature fundraising events for the American Foundation for Suicide Prevention (AFSP), Montana Chapter. Participants join together in our community to raise hope, awareness, and funds to support our ongoing efforts to #stopsuicide. Funds raised help the chapter in our efforts to bring suicide prevention education, advocacy, research and support to suicide survivors.
The grassroot work of the Montana Chapter focuses on eliminating the loss of life from suicide by: delivering innovative prevention programs, educating the public about risk factors and warning signs, raising funds for suicide research and programs, and reaching out to those individuals who have lost someone to suicide. As a part of AFSP's growing nationwide network of chapters, we bring together people from all backgrounds who want to prevent suicide in our communities. Families and friends who have lost someone to suicide, vulnerable individuals, mental health professionals, clergy, educators, students, community/business leaders, and many others energize our chapter. You can get involved or register for this event at
BOOTH # 72
http:/www.afsp.org/yellowstonevalley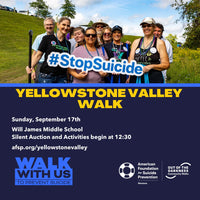 2019 - Meet our Exhibitors - 2023